Piceno panettone: a specialty Christmas cake
Piceno panettone: the best products of the Piceno area in a Christmas cake?
The Piceno Panettone is the result of a special collaboration project and this delicious product is available this year in a highly limited edition.
We were enthusiastic about participating in the project, both for the quality of the final product and for the chance to contribute to publicising the quality and skills of companies in the province of Ascoli Piceno.
Piceno panettone: a quality cake
The result of the project is a cake that brings together the quality and the skills of Antico Caffè Soriano, Anisetta Rosati, Molino Agostini and the tender local Ascoli Piceno PDO olives of the company Agorà.
Olives and anisette in a panettone cake?
This choice was dictated by the desire to combine the symbols of Ascoli Piceno in a cake. The result is a spectacular flavour, thanks to the idea of candying the tender Ascoli Piceno olives with Rosati Anisette liqueur.
This is not a simple, industrial candied product, but a genuine work of art, the result of a specific preparation procedure that gives the cake its special flavour. It also marks a return to the past, since olives were candied in antiquity.
But that is not the only outstanding feature of this truly unique product. The panettone is left to rise naturally for a full 36 hours, with sourdough.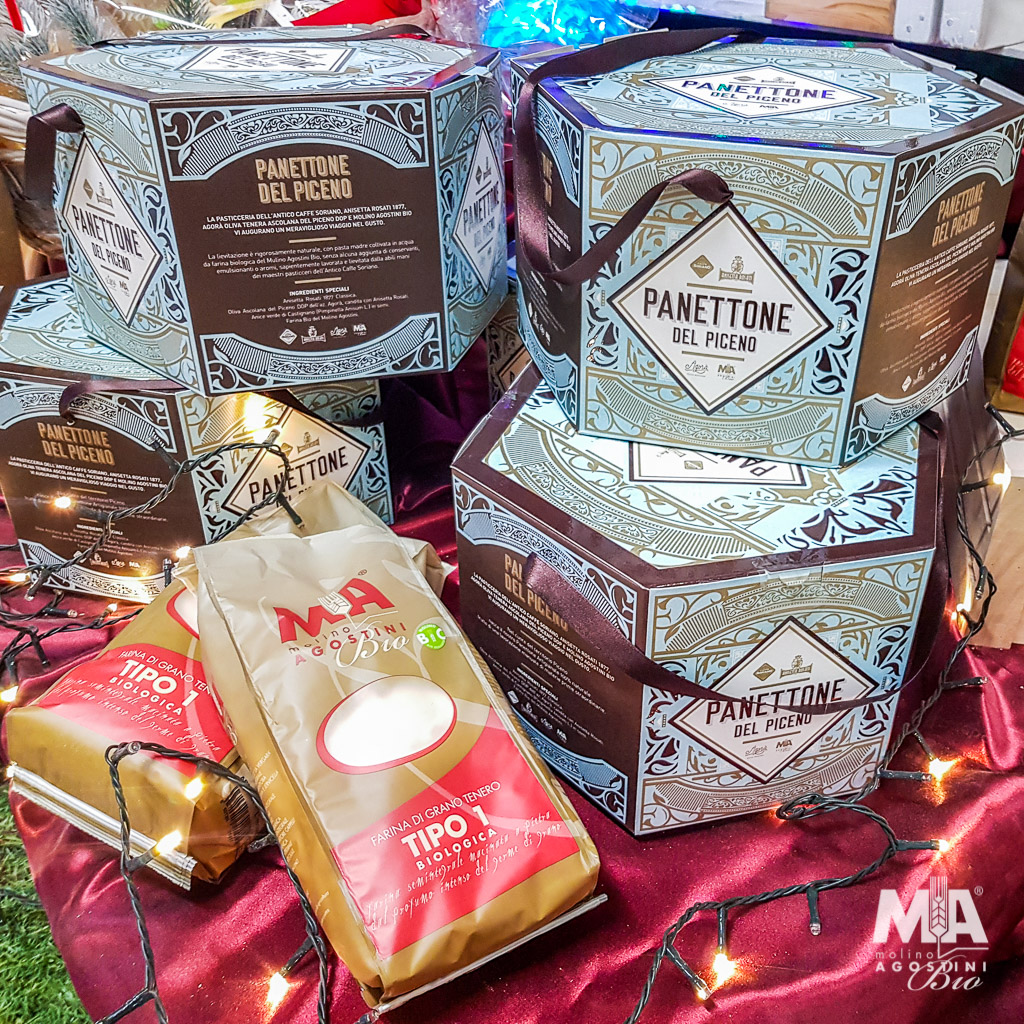 A product that identifies the territory
The process was deliberately kept away from the large-scale distribution chain and assigned to the Soriano Patisserie in San Benedetto.
Is it possible to create a Christmas product that identifies the territory and represents the Ascoli Piceno area and its best products?
The Piceno Panettone was the answer to this challenge launched among local producers.
Available in a limited edition only (four hundred cakes in total), the Piceno Panettone sold extremely well, and even made the rounds of Italy, through the distribution channels of the four producers.
Quality confectionery that showcases our land: what better occasion to celebrate the quality and craftsmanship of local foods and traditional products?
The experiment was a huge success and will certainly be repeated next year in the Christmas period.
We will be there to promote it in our shop.